If you feel ambitious or have developed web sites before, then we have the tools for you. Each virtual site hosted with us comes with a web based control panel packed with everything you need to set up and manage your site. Our Support Library has all the information you need to navigate through the control panel. Click here to access our Support Library.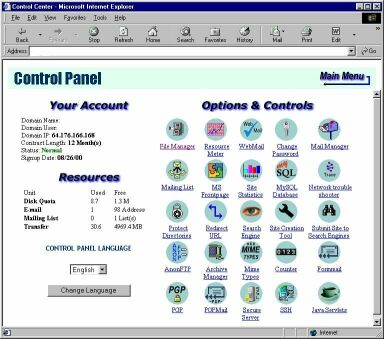 (Click on above image to see a larger view)
Your domain Control Panel contains over 20 tools for working with your web site. Everything from email management, web page creation, comprehensive statistics and password-protected directories. All the information you need, right at your fingertips!

Here's an example of what you get:
Site Creation Tool

File Manager

Add Counter

Rescource Meter (see how much space you've used)

Password Manager

Mail Manager

Mailing List Manager

Search Engine Submission (submit to

MS Frontpage Supported (can turn off or on)

Site Statistics (extensive data on number of visits)

Redirect URL

Anonymous FTP

Archive Manager

Secure Server

Java Servlets

Search Engine Submission Tool - Quickly submit your site to the following:

| | |
| --- | --- |
| | Infoseek |
| | Webcrawler |
| | Alta Vista |
| | Lycos |
| | Excite |
| | Hot Bot |
| | Infoseek Ultra |
| | Yahoo |
| | Netfind |
| | Magellan |
| | What You Seek |
| | Infospace |
| | New Riders Yellow |